Bangles are simply inflexible pieces of jewellery worn around the wrist by women around the world. In India, It is a tradition among Indian women to wear bangles, especially by married women. Bangles are key pieces of Indian wedding jewellery for women and an essential part of any wedding and dance costume. At wedding times, the bangles can almost reach the elbow of the bride. In Indian culture, bangles have evolved into various types in which different ones are used on different occasions. Bangles are rigid and of a circular shape, but found in different patterns and colours. Bangles are made up of different materials including glass, plastic, beads, shell, metal, gold, silver etc. They are usually worn in pairs, set of bangles or single on each arm. The single bangles are called Kangan or Chudi in Hindi, Valayal in Tamil, Gaaju in Telugu, Bale in Kannada.
Here we are listing the top 5 bangles sold by Kollam Supreme
Thin bangles can be worn in pairs or sets of four or six bangles. Most traditional married women like to wear stacking bangles that cover more than half of their arm's length for every occasion. Kollam Supreme's gold plated and one gram thin bangles are the topmost selling bangles on any occasion like Onam, Eid, Christmas or wedding season.

Although the forms of bangles have been further refined and modernized in today's time, traditional bangles have been part of the Indian tradition from the very beginning. Traditional bangles have an important role in South Indian weddings. The handmade broad classic design bangles adorned with semi-precious stones are apt to wear both ends of the hands. In south India, people admire gold and consider it to be the only metal worth showing off. This is why our Kerala style bangles resemble the pure gold bangles. The most intricate and elaborate south designs are suitable for the modern as well as the orthodox woman.
Nature-inspired Palakka, Mango, Nagapadam designs and temple design Asta Lakshmi, Dashavatharam bangles are the most selling traditional design bangles on our website and shops.
Reddish gold plated Chettinad bangles are trendy nowadays. Women and girls love to wear these beautiful broad and medium-sized bangles on special occasions.
Modern women just love to wear a single thick bangle in both hands. Broad bangles are also called Kada, Kangan or thadavala. Kangan is thicker than other ordinary bangles. These have cultural illustrations in vibrant colours. It is worn on either side of the arrangements of bangles in each arm. The Kangan can be round thick bracelets or flat, broad ones with intricate designs.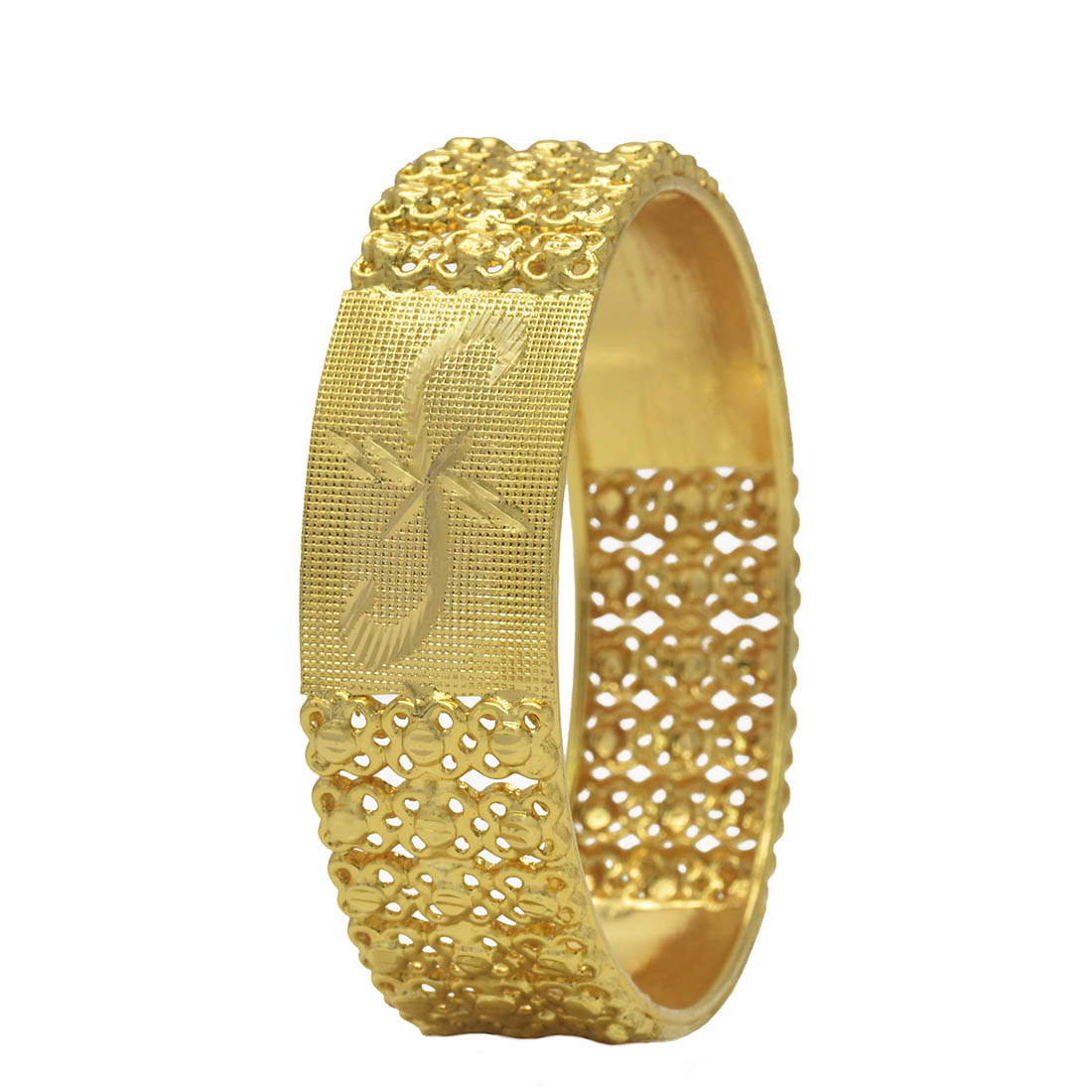 Semi-precious stones bangles are the perfect accessories worn at reception or more formal events during weddings and parties. Semi-precious stones are also beautiful as precious stones. The best known of these are Ruby, Emerald, sapphire, amethyst, topaz, Kundan etc. The rubies are in greatest demand, for their dense colour. Emerald is green in colour and can vary from pale green to deep green. Dazzling rubies and American diamond stones studded bangles are the most selling semi-precious bangles at Kollam Supreme.
Bangles are a perfect accessory to give any age woman a complete look. In India, bangles are a part of our culture. Whichever state we go to, one can never see a married woman without at least one bangle in her hand. Everyone's tastes are different. Modern One gram or Matte finish bangles, classic antique finish bangles, thick or thin bangles, stones studded or intricately designed bangles whatever it may be we have the right bangle for every kind of you.
Pick the right bangle for you!