TEMPLE JEWELLERY has been a part of South Indian tradition for centuries now. The dignity of temple jewellery has increased and diversified all around the world. In the online market, the demand and supply of temple jewellery are high as compared to previous years. Through this blog, we would like to explain each and every piece of temple jewellery and its specific location also.
History of temple jewellery
The historical background of Indian temple jewellery takes as back to the history of the country itself as both are almost equally old. Temple Jewellery had a specified beginning somewhere in the 9th century, during Chola dynasty. The temple jewellery design was worn by maharanis or devadasis in ancient time and also used to decorate the idols, gods and goddesses in the temple. Since the temple jewellery was originated from a tiny village in the southern part of India. So, these jewellery has been named as "South Indian Temple Jewellery".
Often the term "temple jewellery" is confusing to the common people. Because "temple jewellery" is commonly used to refer to Temple collections of jewellery, which may include any deity, often Lakshmi figures or designs.
South Indian temple jewellery is considered as a brand name so that most of the people prefer South Indian temple jewellery because of its Excellency and historical attachments.
What is Temple Kemp Jewellery?
The temple kemp jewellery was made with silver and finished with gold leaf and embedded with several precious gems, glass stones and kemp stone. The kemp aabharanam stone normally comes with dark green and dark maroon colour with high-quality Cabochon stones.
The procedure of making temple jewellery
The temple jewellery is made in silver covered with gold leaf or dipped in gold and it follows the age-old methods.
The old process of making the frames (now in silver) twisting the silver wire in to design, fixing the wax, embedding the stone in it and covering the silver with repeated layers of gold leaf, is still followed by artisans. The artisans in South India also export these pieces of ancient Indian heritage to America, Canada, London, Singapore and Malaysia.
Jewels are most important for Indian women in their everyday life. Nowadays, the usage of temple jewellery is not limited to certain occasions but also used by women to boost their style on ordinary days wearing the high design of temple jewellery. It not only adds to person glamour but also becomes a status symbol. They are symbols of luck, prosperity or happiness and will bring good fortune on the women, her family and life.
These days temple jewellery has made it affordable for anyone who wants to feel like a part of tradition and culture.
Invaluable Treasure of Temple Jewellery
The charm of temple jewellery and the beauty of Indian women by adorning it never gone out of fashion. The Tamil bride, cine artists and most South Indian dancers also wearing it during their performances. Temple Jewellery is an integral part of the Indian dance costumes of Bharathanatyam, Mohiniyattam and Kuchipudi dances. To presenting an artist all Indian classical dance has given importance to jewellery.
Let us try to understand every piece of Temple jewellery.
The headset is the main attraction of every dancer. Hence these headsets are considered as heaven. And it includes Nethichutti a jewel for the forehead, Surya & Chandra pirai (Sun and Moon) is made of two pieces falling on each side of the head, one is symbolizing the sun and another one is the moon.
Hair-clip/Rakodi
This hair decorative piece made up with Kemp stones is used in the back head of dancers, to hold the bunch of lengthy hair spun and tied. Choodamani is also known as Rakudi, Judapin, Ragidi & Billai.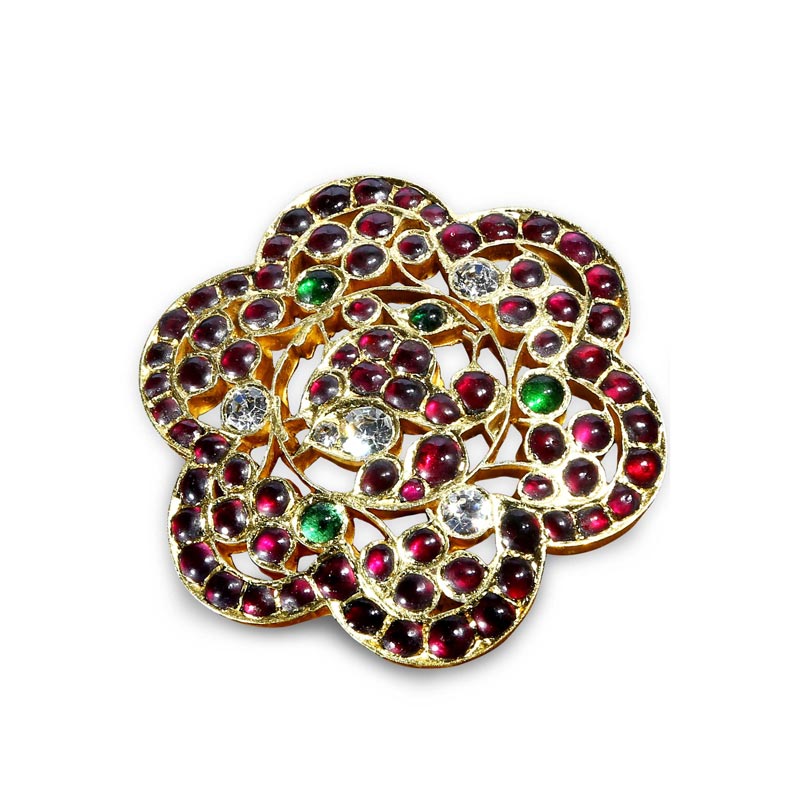 Ears are decorated with two pieces of jewels, our traditional Jimmiki or Jhumka and studs made up with Kemp stones and stunning pearls. Earrings matching the costume and other jewellery are very essential ornaments for dancers or brides.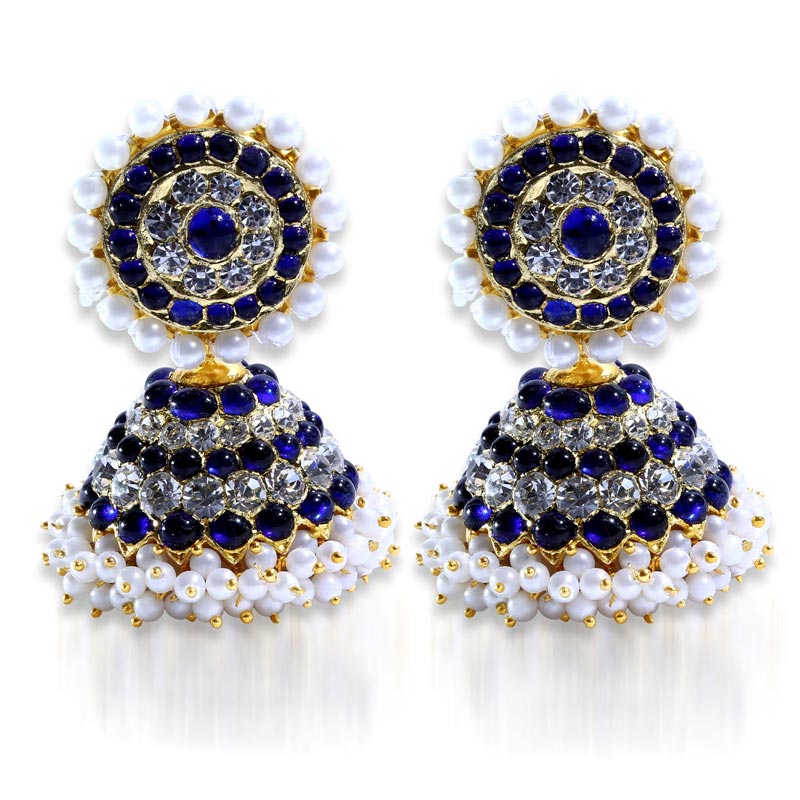 The chain shaped jewel used to hook in the hair from the earring studs is called the Mattal/Matti/Kaan Chain. These are made up of Kemp, CZ stones and pearls.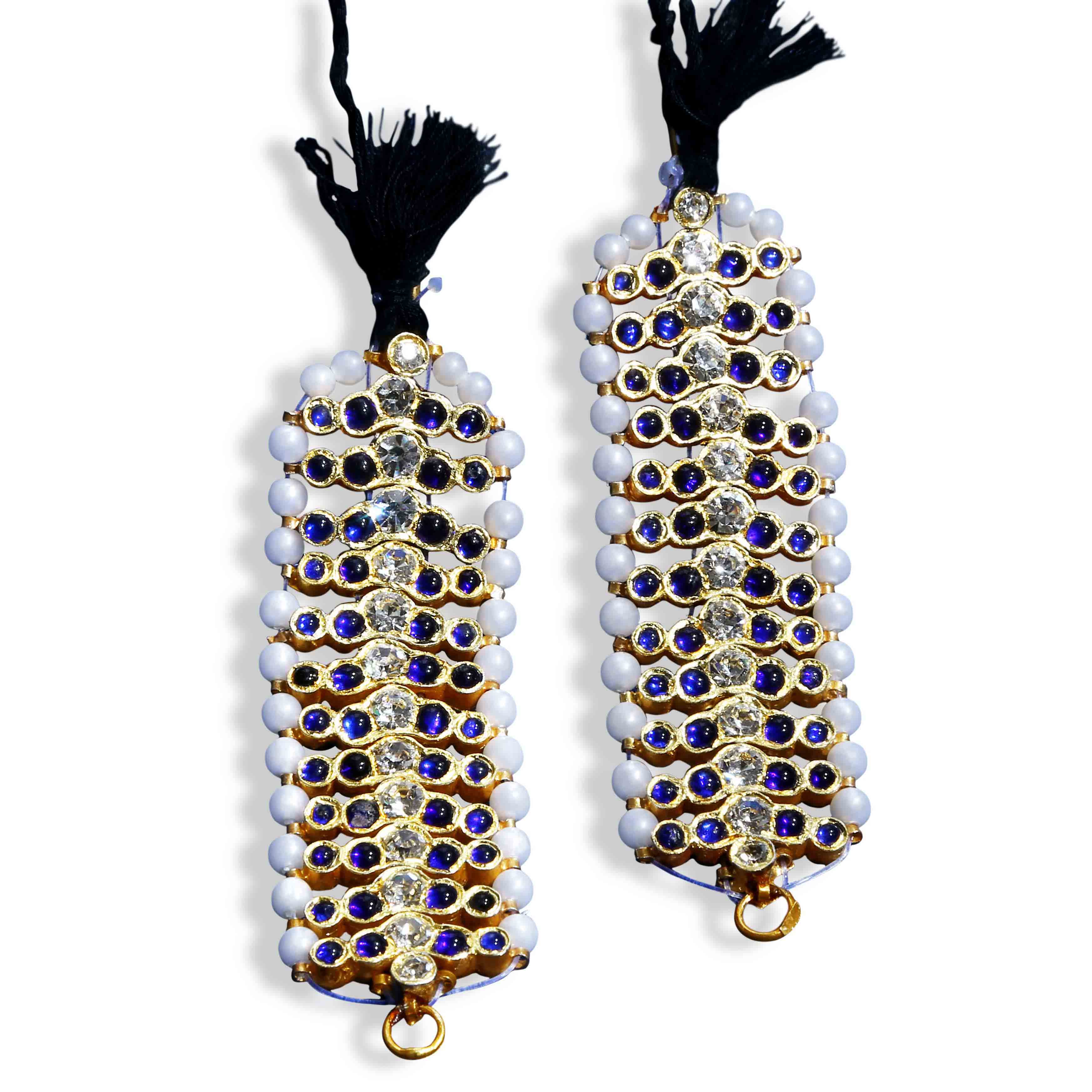 Nose studs (Nathu and Bullak)
Nose studs normally come with two if you use this you do not need to pierce. One is Mookuthi (Nathu) a simple nose stud which gives you a unique grace and style. Bullak a designer jewel that hangs from the nose stead.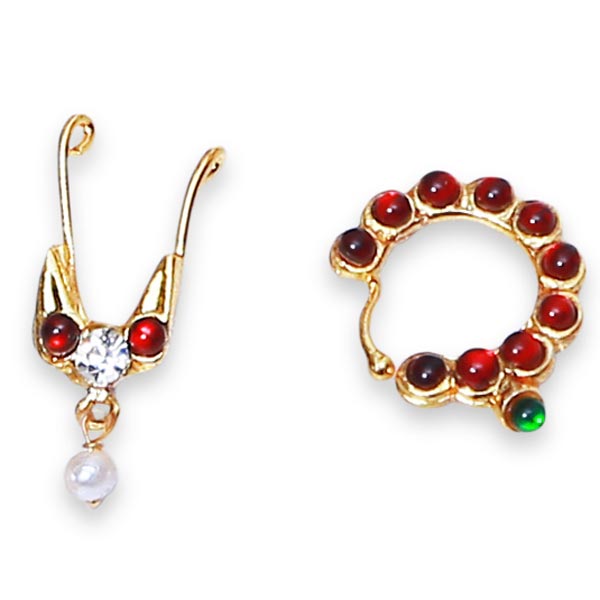 Necklaces may have been one of the earliest types of accessory worn by humans. Short necklace or addigai/adiga/adial is an ornament with kempu stones worn very close to the neck. The Addige is a must-have piece of the south Indian temple jewellery collection.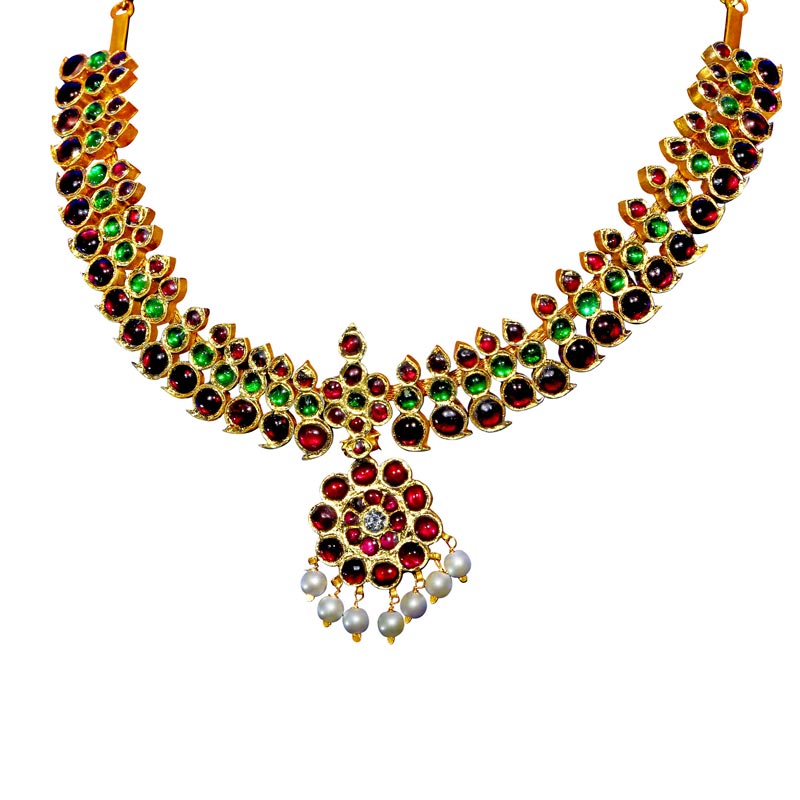 Temple long necklace is the most popular ornaments of temple jewellery which are mainly adorned to give an elegant look to a woman's beauty. It has with a broad pathakkam or pendant designed in red, green and pearly stones with peacock or floral design set in a half-moon like frame.
Armlet
Armlets are used to decor the upper arm. It gives a graceful up and down movement in between the dance performances. The Upper arm band sets are also called Arm Bracelets, Baju Bandh, Ara vanki, Kaikettu
The waist is outlined with a large golden Hip belt called Oddiyanam/Vaddanam and it is decorated with Kemp and pearls. This adornment is used to tighten the Saree in the hip.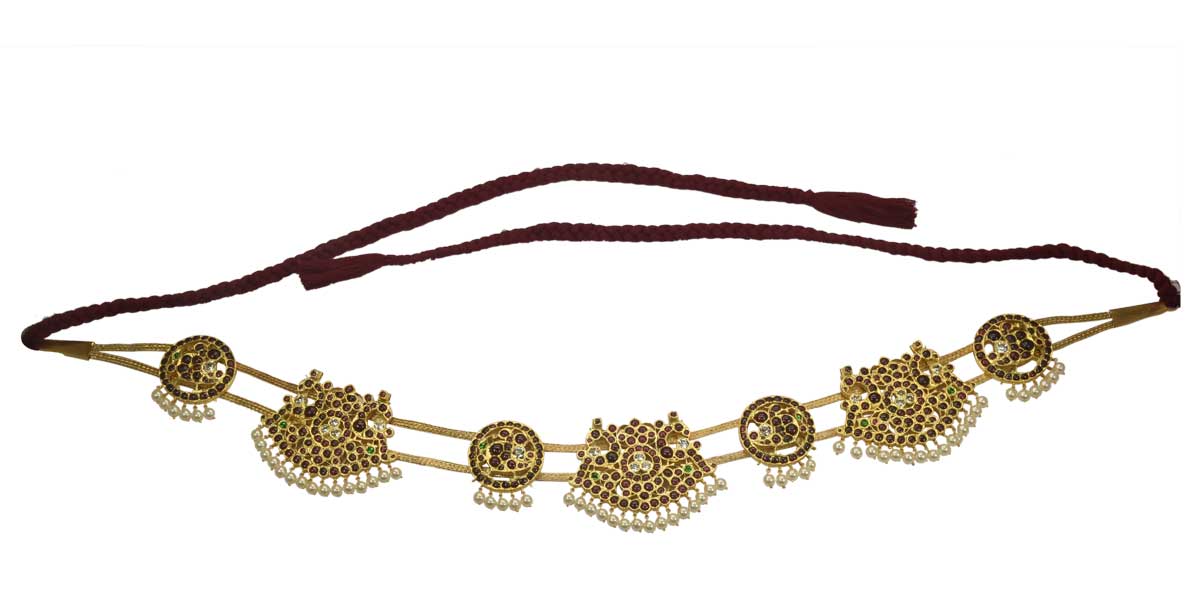 Anklets/Payal
Temple jewellery Anklets or Payals are made up of Kemp stones and in the broad classic designs which are rarely worn by South Indian Brides. Classical dancers use Salangai, which is an essential ornament for classical dance, not kemp anklets. Salangai/Chilanka/Gunghroo is a small brass bell fixed in leather, velvet or cotton straps. When it's tied to the feet, Salangai emphasizes the rhythmic aspects of the dance. 3, 4and 5 Lines of Ankle bells are available.
Conclusion
Temple jewellery's unique classic designs and timeless history make it a valuable part of the Indian jewellery market. The making of temple jewellery consists of a huge process and the skilled creative artisans' efforts make it more precious. Through our venture, you can purchase any temple jewellery, and we are very happy to deliver these items to your doorsteps as an easy and honest way. We deliver worldwide through our website kollamsupremeonline.com. We can make any temple jewellery design as per customer request within one or two weeks.